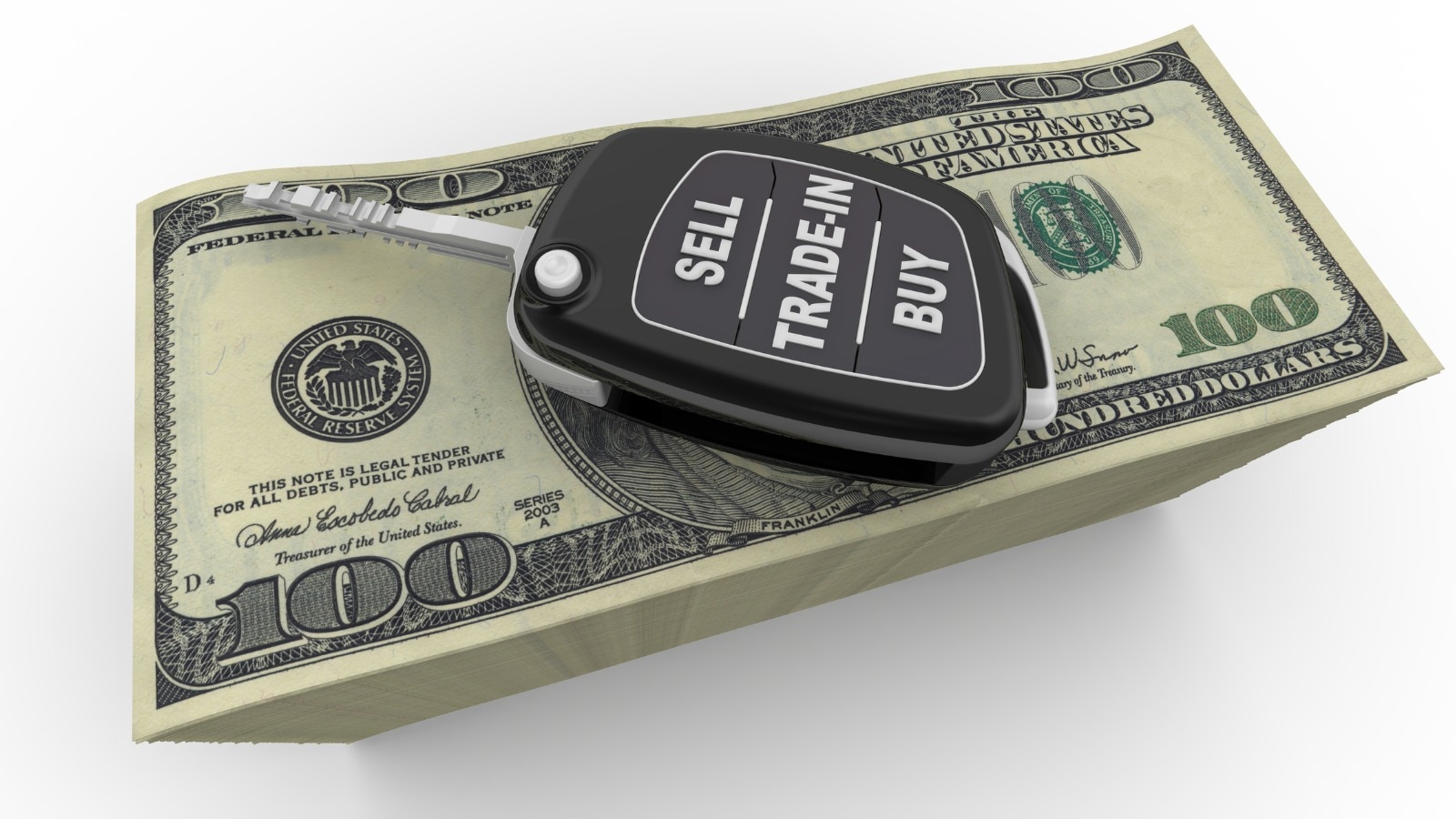 Is Now the Time To Buy, Sell, or Trade-in a Car?
Quick Facts About the Car Buying and Selling Marketplace
We write monthly updates on what consumers shopping for a new car can expect. We scan the data and report trends for used car shoppers. For July, both new and used car shopping data show positivity.
Prices for new vehicles in July saw slight increases as inventories bulked up, according to data from Kelley Blue Book parent Cox Automotive. Dealers and automakers offered discounts, known as incentives in the lingo of car shopping.
For shoppers wanting to purchase a used vehicle, trends improved some (more on that in a moment). For the first time in a long time, we can tell you that taking your time to shop for the right car this month might actually let prices drop. Used car prices dipped, which helped consumers find better deals.
We'll walk you through what you can expect from buying or selling a new or used car or trading one in. Of course, many car shoppers are effectively in both markets at once, with a car to swap. The news couldn't be better for them. Rising used car values and falling new car prices are the best-case scenarios for your trade-in. Read on to find out more.
What New Car Shoppers Can Expect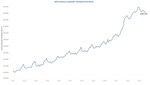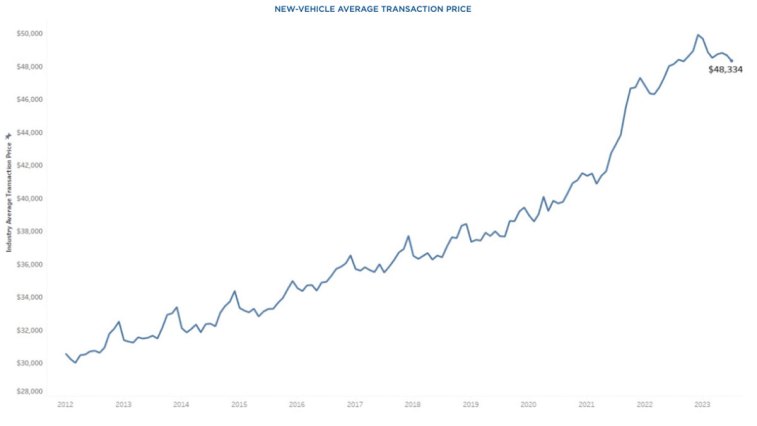 The average new car buyer paid $48,334 in July. That's $337, or 0.7% more, than June's total. When compared with July 2022, it's $199, or 0.4% more, and the smallest year-over-year increase in a decade. More remarkable, it's $1,335, or 2.7% lower, than the start of the year. That total shows the largest January-to-July price tumble in a decade.
"New-vehicle price inflation has all but disappeared in 2023," said Rebecca Rydzewski, research manager at Cox Automotive. "New-vehicle prices, primarily driven by cuts in luxury and electric vehicles, are decreasing as inventory is steadily improving. With higher inventories and higher incentives helping to keep downward pressure on prices, there certainly are good reasons for shoppers to be heading back into the market."
RELATED: When Will New Car Prices Drop?
Depending on the model you're shopping for, dealers may even be overstocked.
Car dealers measure their supply of new cars for sale in a metric they call "days of inventory," or how long it would take to sell out of cars at today's sales pace if they couldn't acquire more. At the end of July, dealers had an average 56-day supply of all vehicles. But Ram, Jeep, Chrysler, and Dodge all sat on supply levels over 80 days.
Dealers also average more than a 100-day supply of electric vehicles (EVs). The price of the average electric car fell more than 20% in just one year.
Americans continue to buy more luxury cars than the historical norm. The luxury share of the U.S. market was 19.3% last month — near a record high. The average luxury buyer paid $63,552 in July, almost 3% less than a year ago.
Impact of Higher Interest Rates
Meanwhile, the Federal Reserve raised interest rates a quarter point in July after taking a pause the month earlier. Higher interest rates may stall some car buyers from purchasing a new or used vehicle.
Even if lenders stop passing those rate increases on to borrowers, it doesn't mean conditions are the same at every dealership.
More than other dealerships, Honda, Kia, and Toyota continue to charge prices closer to MSRP (manufacturer's suggested retail price), and have little trouble selling most cars on their lots.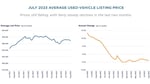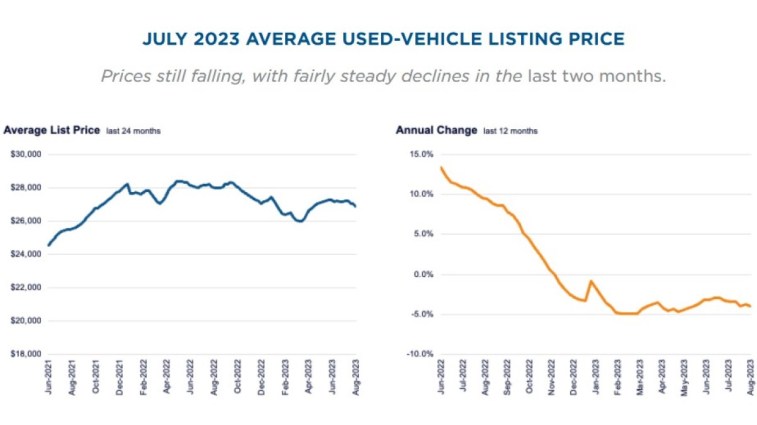 For used car shoppers, the news appears better.
The average used car in America sold for $27,028 in July, down 0.5% from the month earlier's price. It's 4.1% lower compared to July 2022.
Wholesale prices have fallen further than that. Dealers paid 11.6% less for the average used car at auction in July than they did a year ago. When wholesale prices drop, retail prices usually follow about six to eight weeks later. However, they aren't dropping as sharply this summer because of the lingering effects of the last several years.
Waves that hit the new car market reach the used car market years later. All those factory closures early in the COVID-19 pandemic, the microchip and other supply shortages, and Americans buying their cars at the end of their leases mean more than 8 million fewer used cars reaching the market for the next few years. That means sustained price drops won't be coming for some time.
But prices are falling. Taking your time to find the right used car doesn't mean much risk of prices increasing this month.
An Update on Supply-Chain Problems

A worldwide shortage of microchips drove car prices higher for much of the last two years. As it eases, some automakers and dealer groups plan to keep the supply of cars low, allowing them to charge more for cars. The days of dealer stockpiles and hefty discounts may never fully return.
Even as automakers increase their supply, other threats loom. The United Auto Workers union and America's Big Three automakers recently started negotiations over new labor contracts. Many analysts believe any agreement won't come without a strike that shuts down some factories in the fall.
Pre-pandemic, Americans routinely bought more than 17 million new cars per year. In 2021, we bought just over 15 million. Last year, shoppers purchased close to 13.7 million new vehicles. In 2023, Cox Automotive predicts Americans will buy 15 million new vehicles.
RELATED: Ordering a Car from the Factory — Everything You Need to Know
Automakers Are Building More Expensive Cars

Though short-term trends are pushing new car prices down, automakers are focusing their efforts on building more premium cars. The era of the inexpensive car is disappearing.
A recent analysis finds that sales of cars priced at $25,000 or less have fallen by 78% in just five years. Five years ago, automakers offered 36 different new models in that price range. This year, they offer just 10.
Meanwhile, those priced at $60,000 or higher have grown by 163% in the same period.
Cox Automotive Chief Economist Jonathan Smoke explains that lenders are more likely to loan money to affluent car shoppers with all the recent Federal Reserve interest rate hikes. "This trend induces automakers to focus on profitable products for consumers who can afford to buy, which keeps less affluent consumers out of the new-vehicle market altogether and limits what is available and possible in the used market for years to come," Smoke cautions.
Older, Less Expensive Cars Harder To Find
If you hope to find an older vehicle and your budget is less than $15,000, these cars remain in short supply. More would-be new car shoppers started buying up the available used cars. So, the shortage of lower-priced cars is partly due to a lack of inventory.
Plus, Americans are holding onto their cars longer than ever. The average car on American roads is now 12.5 years old. Automakers also produced fewer cars for several years after the 2008 recession. That leaves fewer higher-mileage, older used vehicles available to sell.
The easiest used cars to find are priced between $15,000 and $30,000. Cars priced under $15,000 remain difficult to find.
How To Buy a Car Right Now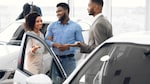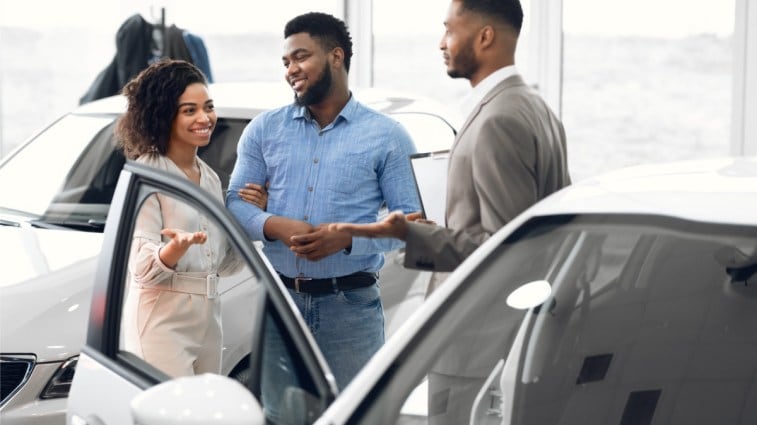 If you want to purchase a new or used vehicle, be prepared for sticker shock. For new vehicles, prices remain 27% higher than during the early days of the pandemic. But take stock that your next car will likely last longer and help you drive safer than ever with all the technological advances and offerings.
RELATED: Buying Older, Used Cars in 2023
Vehicle quality studies repeatedly show that today's new cars suffer fewer problems than those from just a few years before. That means buyers of higher-priced used cars will likely see the vehicle driving on the road even longer. The same goes for those buying new ones.
With most automakers now building such durable cars, they compete by adding more high-tech features. Features like adaptive cruise control and Apple CarPlay are now more common than ever on entry-level vehicles. Read on to see our tips on buying a car below.
How to Leverage Incentives to Buy a New Car
Car incentives made up 4.4% of the average deal last month. They were just 2.4% of the average sale price a year ago.
Of course, the numbers could be better. Kelley Blue Book estimates incentives averaged 5.9% of the average sale in July 2021 and 10.3% in July 2019. But they're trending in the right direction for car shoppers at last.
To take advantage of incentives, read about our monthly best car deals to find dealer or manufacturer incentives, including cash back and lower interest rates for financing your next vehicle.
RELATED: How to Buy a New Car in 10 Steps
Selling a Car Right Now
Few of us can sell a car without needing to buy a replacement. But, if that's you, what are you waiting for? You will get more for your car today, and that's great news. The best way to get the most money for your used car is to sell it privately. But if you don't want the hassle, there is still an opportunity to sell to a dealership.
Trading In a Car Now
Falling used car prices mean a little less for your trade-in. But the ongoing shortage of used cars caused by pandemic-related shutdowns will be with us for years. You'll still likely see respectable offers for your used car this month.
Searching for a decent price for your trade-in is still a good idea by shopping it around. Each dealership tries to keep a balance of vehicles on its lot. Sometimes, the one you want to buy from doesn't need your trade-in desperately, but a competitor does.
Research your vehicle's Kelley Blue Book value, then call several local dealerships to see what they'll offer you for it. Or try our Instant Cash Offer tool, which brings the deal to you from various dealerships without obligation. You can choose the offer you prefer or use it to negotiate with others.
Looking Ahead
The looming threat of strikes makes it hard to predict where car prices will go in the fall. But our analysts are confident the good conditions of the current market will be with us for several months.
Several automakers have said they plan to keep inventories lower indefinitely, maintaining high prices for the foreseeable future. As a result, car prices may never return to a pre-pandemic "normal." But the market has turned in favor of shoppers late this summer.
RELATED: 10 Best Used Car Deals
Tips for Buying a Vehicle Right Now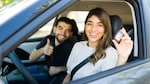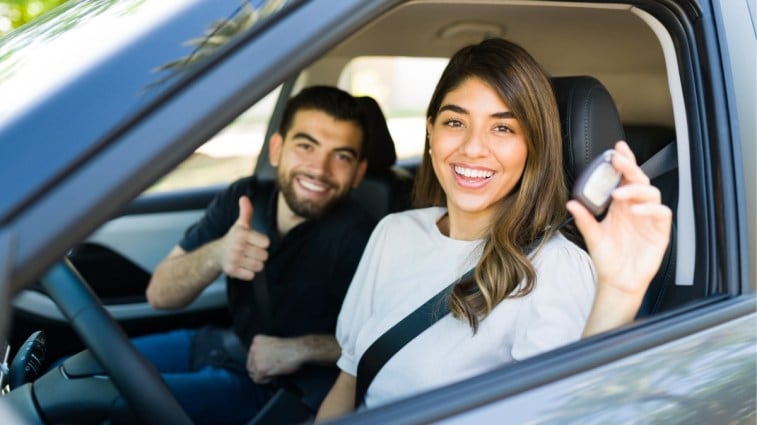 If you must shop right now, we recommend a few strategies to help you find the right new or used car that fits your budget.
Expand your search. Widen your search to a broader geographic area.
Stay patient. Call dealerships early and often to see what's coming off the trucks for those harder-to-find vehicles. Leave a refundable deposit if you want first dibs.
Understand the timing. Be prepared to shop for several weeks, and know it involves calling or visiting several dealerships as you look for the right fit.
Don't jump. Shop around your trade-in as aggressively as you seek out the right car. Don't accept the first offer. You could sell yourself short.
Weigh your options. Don't just look for a car; search for the best interest rates from banks or credit unions. Then, weigh all your options, including financing incentives at the dealership, if that's where you buy your next vehicle. Also, you may find the price differences of some newer model used vehicles are almost the same as new cars. Just keep all your options open during your search.
Don't pay dealer markups. If you see a markup, sometimes called a market adjustment, on your final invoice, ask that it be removed or shop at another dealership.
It may make sense to keep your existing car for another year if you can. If you must buy, be prepared to take excellent care of your next car to keep it running for a long time.
Related Articles About Car Buying and Selling:
This article has been updated since it was originally published.