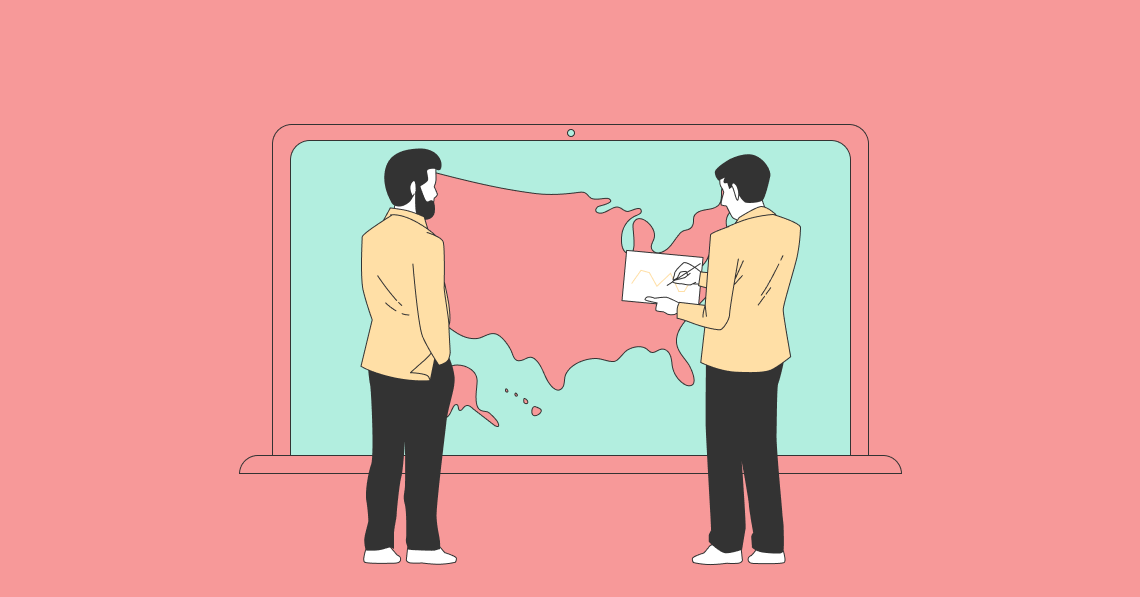 Top 29 Digital Marketing Agencies in the United States [UPDATED]
If you run a US-based brand or you're looking to branch into the United States market, you might be looking for a high-quality local digital marketing agency to help you out. Working with a marketing agency that's in a similar time zone as you can be helpful for communication.
In addition, working with an agency that's in the same area as your target customer helps them to better market to that audience. They're familiar with their holidays, traditions, and the like, making it more likely that they can help your business resonate with those consumers.
To help you find the best digital marketing agency in the United States, we've put together a list of our top recommendations. Let's dig in.
---
Top Digital Marketing Agencies in the United States:
---
Sociallyin is a social media agency that takes "social" to heart in every aspect of its business. It leverages the collective power of its team of expert strategists, creatives, designers, writers, photographers, and social media gurus. It also applies a collaborative approach that enables clients to take an active role in exploring the optimal solutions for the positive outcome they seek. It helps create a community where engagement not just brings real value to the audience but also helps companies generate leads and boosts revenues.
The Sociallyin team has worked with well-known brands like Toyota, Friday's, Dick's Sporting Goods, and Alfa Insurance. Their fresh marketing perspective and result-driven strategy enables businesses to widen their social reach and accelerate growth.
Services:
Creative & Production

Community Management

Social Media Strategy

Social Paid Advertising

Social Media Content Production

Paid Advertising Management

Social Media Management

Influencer Marketing

Social Media Data Analysis & Roi Modeling

Social Selling Services
---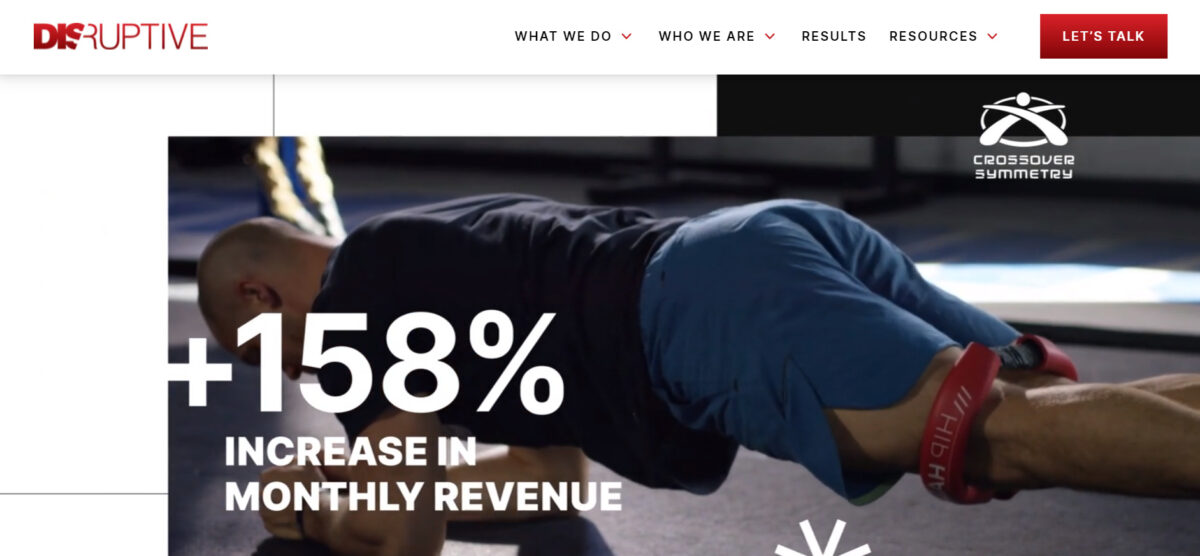 Disruptive Advertising is a digital advertising agency based in Utah, USA, in the GMT-6 time zone. According to their website, they "aspire to be the last agency you'll ever work with," showing that they mean business and want to provide you with the results to prove it.
The Disruptive Advertising team works with a variety of industries, like ecommerce, B2B, legal, home services, healthcare, finance, insurance, education, and enterprise companies. They've worked with clients like Adobe, Death Wish Coffee, and Three Bird Nest.
Services: 
Content Creation

PPC Management

Email Marketing

Social Media Management

Facebook & Instagram Advertising

Website Optimization

Ecommerce

B2B
---

SmartSites have been helping small businesses and Fortune 500 companies for over a decade to outsmart their competitors. They offer various top-rated digital marketing services and have been praised for their responsiveness and value that they offer. 
Some of the industries that SmartSites have worked with include B2B, automotive, and retail. Their award-winning team of digital experts have helped hundreds of clients and generated more than $100 million in sales for them.  
Services:
PPC advertising

SEO

Website design

CRO
---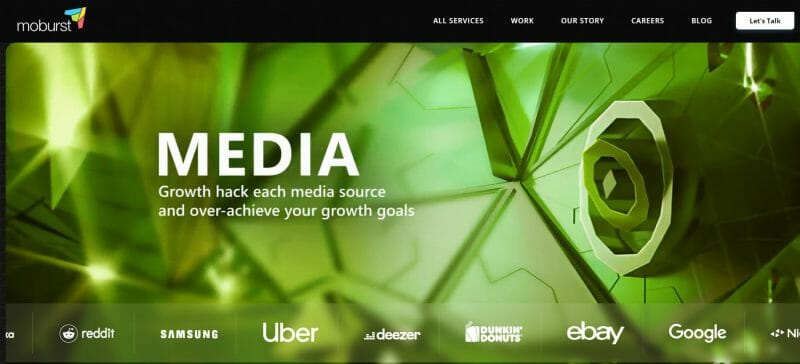 Managed by people with expert industry knowledge and backed by powerful technologies, Moburst has the capability to deliver data-driven solutions that scale businesses and pave the way for long-term growth. They have worked with startups, small entrepreneurs, and global brands including Samsung, Discovery, Nielsen, Dunkin' Donuts, and Deezer.
From an innovative app agency, Moburst has transformed into a full-service digital marketing agency that creates and implements effective marketing strategies for brands seeking to leverage social media and search platforms. Industry best practices and creative approaches are amplified with big data and analytics to maximize targeted performance indicators.
Services:
Marketing strategy (digital, mobile, social, and product strategy)

Data and analytics

Organic awareness (SEO, ASO, CRO, and localizations)

Social Media Management

App Store Assets

Creatives (Content Creation, Campaign Design, Video Production, Army of Creators, etc.)

Media Buying (Social Search, Networks, and RTBs)

Influencer Marketing

Email Marketing

OTT Advertising
---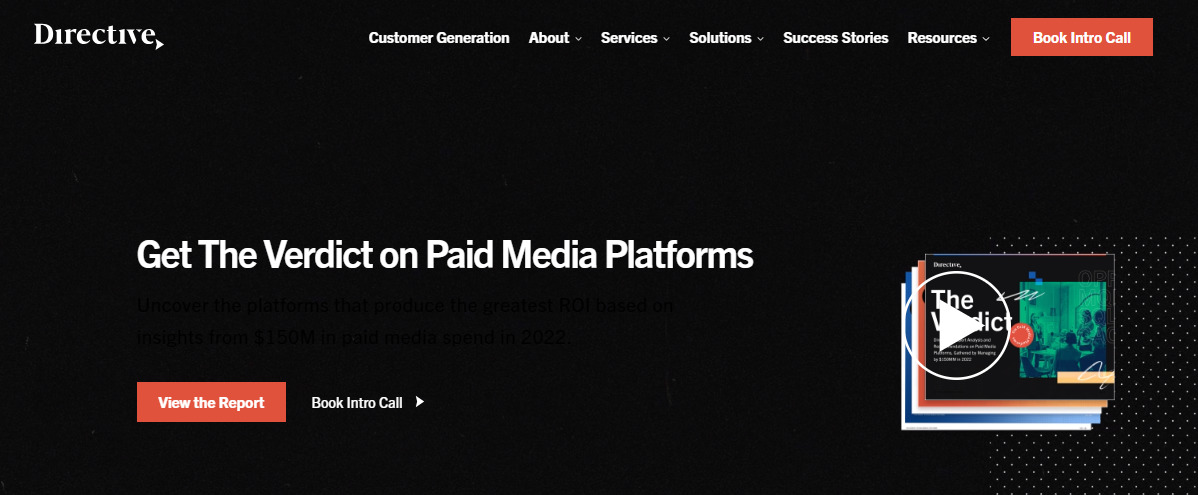 Headquartered in the United States, Directive is a top-tier digital marketing agency that redefines the concept of client-agency partnership. Unlike traditional agencies, Directive offers a dedicated team of search marketing professionals who maintain regular communication and execute strategies on a weekly basis. They are committed to delivering tangible results, eliminating the frustration of unproductive agency relationships. 
Their team understands the nuances of enhancing online presence across various platforms, including Google, Bing, and Social Media. They are adept at setting marketing goals that not only attract but also retain valuable customers, ensuring a holistic impact on your user lifecycle. 
Their unique selling point lies in their ability to predict revenue with LTV:CAC financial modeling. They utilize 1st-party data and financial modeling to identify your most influential levers and construct foolproof strategies. Directive also excels at deploying growth efficiency campaigns at scale, reallocating capital strategically to maximize ROI. 
Services: 
Paid Media

 

Content & SEO

 

Integrated Strategy

 

Lifecycle Marketing

Creative Services

 

Video Production

 

Revenue Prediction

 
---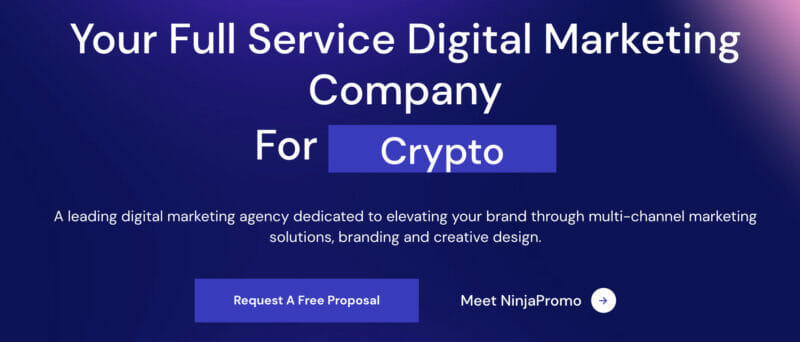 With offices in New York and several other cities across the globe, NinjaPromo is one of the leading names in digital marketing. As they're a full-service digital marketing company, they can help with all the most popular services. Not only do they offer a long list of marketing-related services, but they also serve various industries, including more technical sectors like crypto, B2B, and fintech. 
Before they tackle a new project, they'll first organize a discovery session to learn more about your business. This way, they can customize their digital marketing strategies to suit your unique products and business objectives. Then, after implementing a strategy, their team of experts will continue to track campaigns and make changes where needed. 
Services: 
Email Marketing

Paid Media

Video Production and Marketing

Branding

Community Management

Mobile App Development

Social Media

SEO

Influencer Marketing

PR and Outreach
---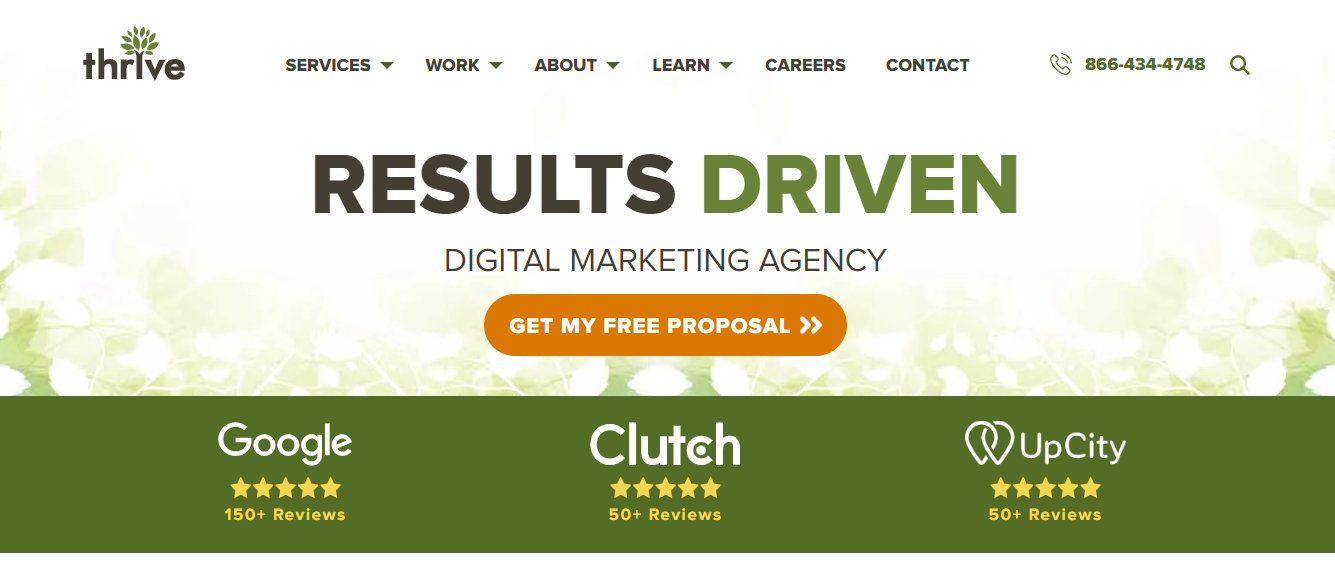 Flourish in your widely competitive industry with digital marketing campaigns developed with your growth in mind. Doing everything with intention and remaining constantly proactive, Thrive Marketing Agency focuses on two key elements: Relationships and Results. This means every project is implemented in a highly collaborative manner, which leads to optimized outcomes that exceed client expectations and goals.
As a full digital marketing agency, Thrive provides services on all spectrums of digital marketing employing a strategy-first approach to every campaign. Its streamlined processes, state-of-the-art tools, and advanced technology help achieve results that support sustainable success.
Thrive offers digital marketing solutions to businesses of all sizes, regardless of niche, industry, or geographical location. They currently serve thousands of active clients in different parts of the globe, including Mood, BMS CAT, D&D Beyond, Daryl Flood Logistics, US Health Group, and Image 3D.
Services:
Digital Marketing

Search Engine Optimization (SEO)

Pay-Per-Click (PPC) Marketing

Web Design and Development

Social Media Marketing

Online Reputation Management

eCommerce Marketing

Amazon Marketing
---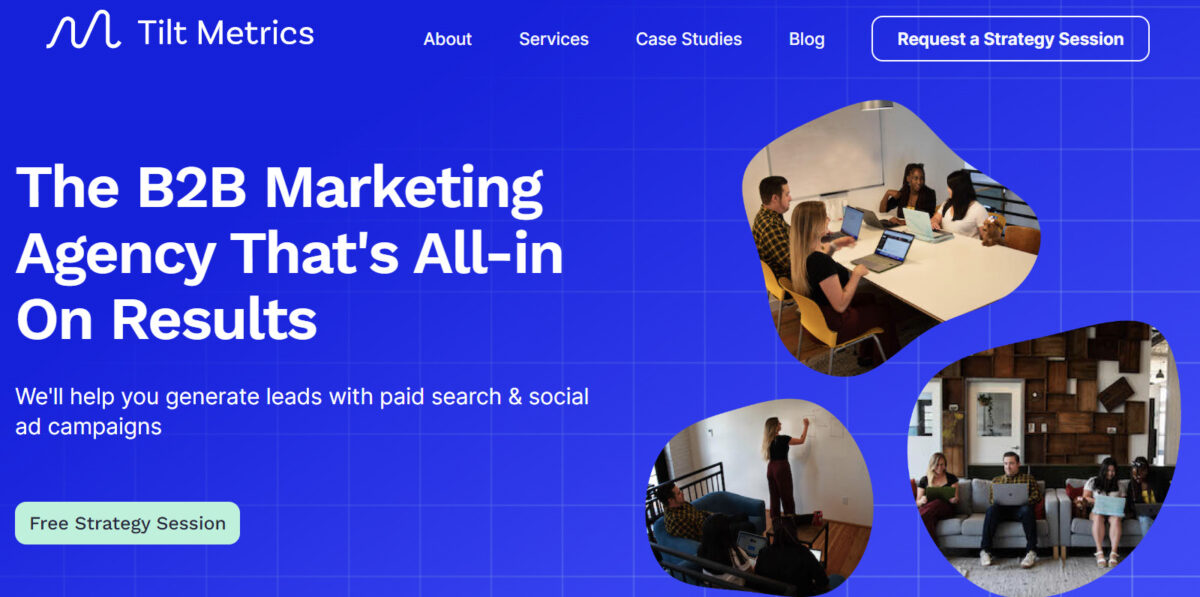 As a powerhouse in the B2B marketing industry, Tilt Metrics has carved a niche for itself by helping B2B software and service companies generate leads through paid search and social ad campaigns. Their clientele includes industry leaders like Frogslayer, Astra, CloudApp, and Mojotech. Tilt Metrics' success lies in their result-oriented approach, which has been demonstrated in a case study where they managed to garner 10,431 signups for a FinTech SaaS company through a combination of paid ads and SEO.
The agency successfully utilizes various channels such as Facebook, Instagram, Google, LinkedIn, YouTube, and sponsorships for projects of any size. With a comprehensive, step-by-step approach, Tilt Metrics creates automated lead generation campaigns that smoothly transition prospects from strangers to loyal customers.
Services:
Paid search and social ad campaigns
Lead generation
Building trust and authority
Conversion optimization
---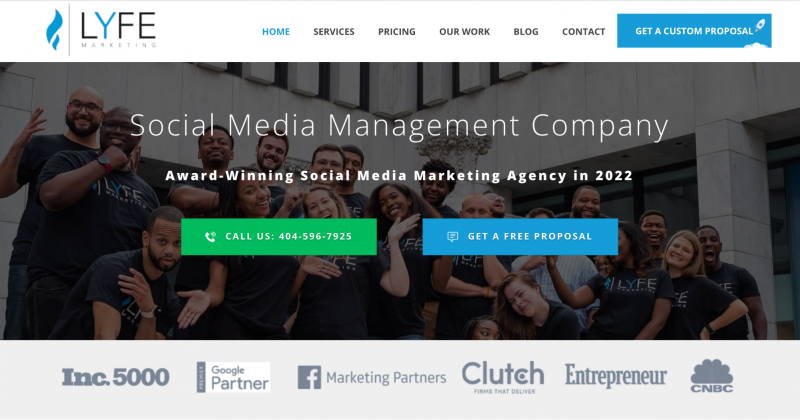 Based in Atlanta, Georgia, Lyfe Marketing is an agency in the US that offers a full suite of digital marketing services. They specialize in social media management, creating successful campaigns for their clients on Facebook, Instagram, Twitter, LinkedIn, and other top platforms that result in sales and conversions.
As a full-service agency, the company utilizes the whole range of their services coupled with their expertise to help their clients grow online. Lyfe's goal is to maximize their clients' ROI by using different strategies like social media, SEO, PPC, and other digital approaches to increase engagement and lower CPA.
They've had tremendous success with their clients, with most of them experiencing a huge growth in qualified leads, website traffic, and even in revenue.
Services:
Social media management

Social media advertising

Email and SMS marketing

PPC management

Video animation
---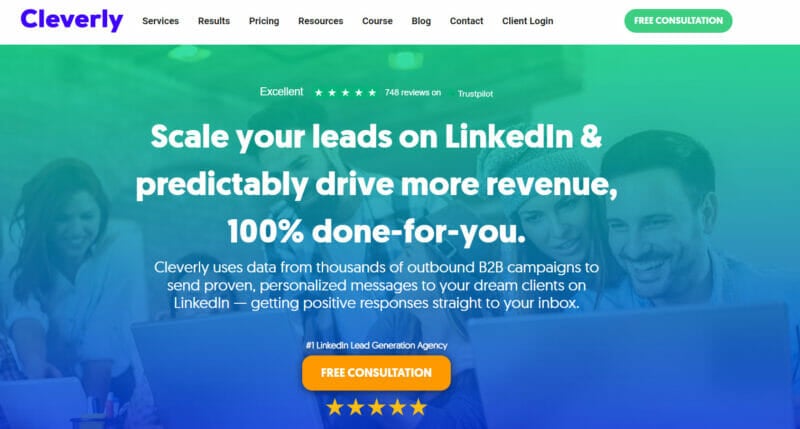 Cleverly is a LinkedIn-dedicated marketing agency based in Los Angeles, California. What differentiates them from other agencies and LinkedIn lead-generation software is that you get a dedicated US-based account manager who proactively manages your cold outreach and prevents your LinkedIn account from being flagged or shut down. 
LinkedIn limits the number of outreach messages an account can do, and going overboard often results in being banned from the platform. By having a dedicated team proactively managing these limits, you are safe from being banned and guaranteed the leads you want. Cleverly handles the entire LinkedIn lead generation pipeline, from identifying targeted prospects and sending personalized cold outreach messages to alerting your sales team when it's time to nurture the leads. 
Cleverly also offers email, real-time chat, and phone support, so you can reach someone anytime you need to. It serves various industries like software companies, legal services, technology startups, real estate services, financial services, and small businesses. 
Services:
LinkedIn Lead Generation

LinkedIn Paid Advertising

LinkedIn Profile Optimization

LinkedIn Content Services

LinkedIn Recruiting

Cold Email Outreach

SEO Content & Blog Writing

Google Ads Management
---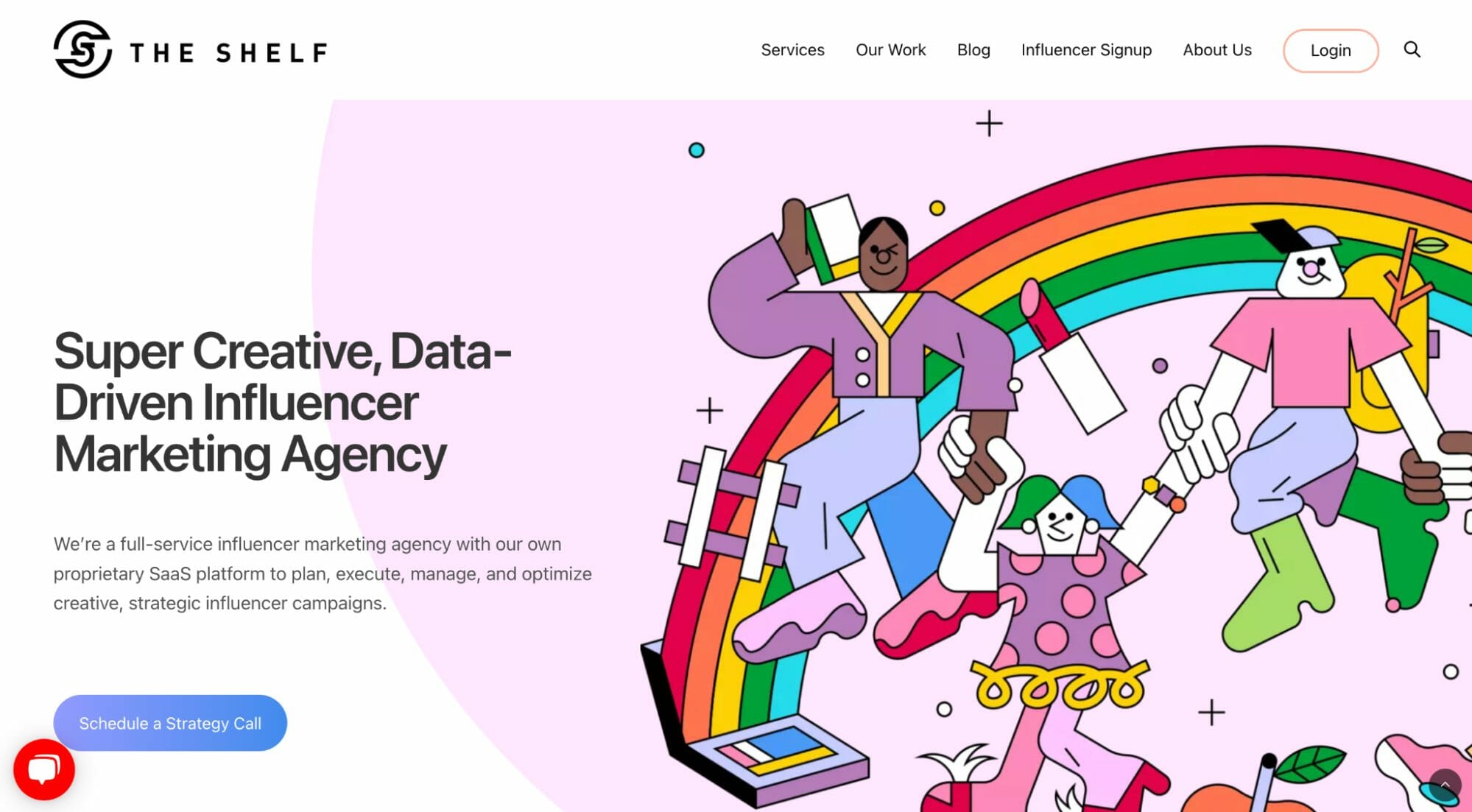 The Shelf is a New York, USA-based influencer marketing agency in the Eastern Time Zone. All of their services pertain to influencer marketing and partnerships, meaning they've mastered the ins and outs of working with influencers.
Some of the major brands The Shelf has worked with include Walmart, eos, Pepsi, Neutrogena, and Hanes. They've also worked with a number of different industries, like apps, beauty, fashion, food, parenting outdoor, home decor, and social causes.
Services: 
Strategy & Planning

Relationship Management

Client Portal

Content Creation

Quality Control

Optimization

Marketing Funnel
For Influencers: If you are looking for agencies to represent you click here.
---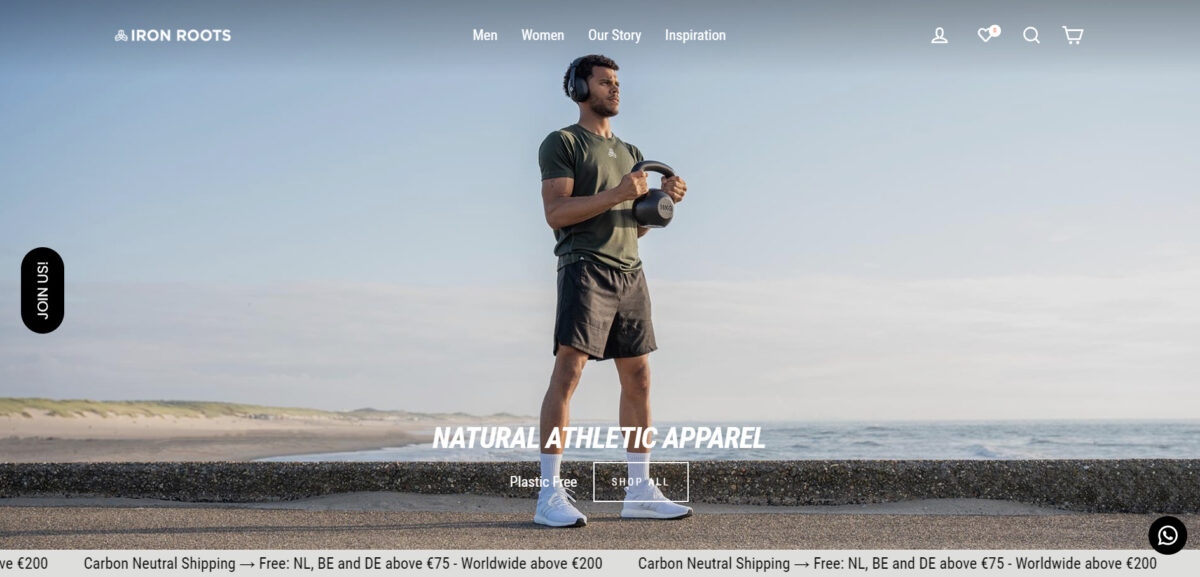 Iron Roots is a digital marketing agency based in Austin, Texas, USA, in the Central Time Zone. Showing their social proof right from the top of their website, we see that Iron Roots is an award-winning agency working for some of the world's best brands.
And to further prove that, they show off some of those brands: Gillette Razors, Warner Brothers Studios, Netflix, and DC Comics, just to name a few. They also share some of their results, like how they reached 5.5 million people with their Gillette/DC Comics co-marketing campaign.
Services: 
Growth Strategy

Onboarding & Customer Lifecycle

Experimentation Framework

Creative Strategy & Execution

Data & Analysis

Instrumentation & Pixel Setup

Event & Attribution Mapping

Channel & Audience Segmentation

Media Buying

Campaign Architecture

Bidding Strategy

LTV & CPA Calibration

Social Media Marketing

Community Management

Content Creation

Influencer Marketing Campaigns
---

Evestar is an ecommerce marketing agency based in Florida, USA, in the Eastern Time Zone. As an ecommerce agency, they focus on everything D2C, or direct-to-consumer. Before working with an ecommerce brand, they take a look at metrics like your conversion rate, average order value, and customer lifetime value to first make sure you're ready for scalable growth.
The Evestar team works with industries like apparel & fashion, supplements, cosmetics, food & beverage, and consumer tech & electronics. Some of their past clients include Steve Madden, Elan, Hairmax, and Roshambo Eyewear.
Services: 
Facebook Ads

Google Ads

TikTok Ads

YouTube Ads

Ad Creative

Email & SMS Marketing

SEO

Pinterest Ads

Ecommerce Development

Brand Book

User-Generated Content

CRO
---

JumpFly is a digital marketing agency based in Chicago, Illinois, USA, in the Central Time Zone. They've been around since 2003, proving that they've mastered a number of new strategies over the years as the digital marketing space evolves more and more each year.
The JumpFly team has worked with a number of clients, like Window Design Group, Nature Hills Nursery, Harvard Business Services, and Jura Coffee Machines. They've generated results like an 820% increase in conversions, 66% increase in clicks, and 90% increase in revenue.
Services: 
Full Scale Paid Search

Social Media Advertising

Amazon Advertising

SEO Strategy
---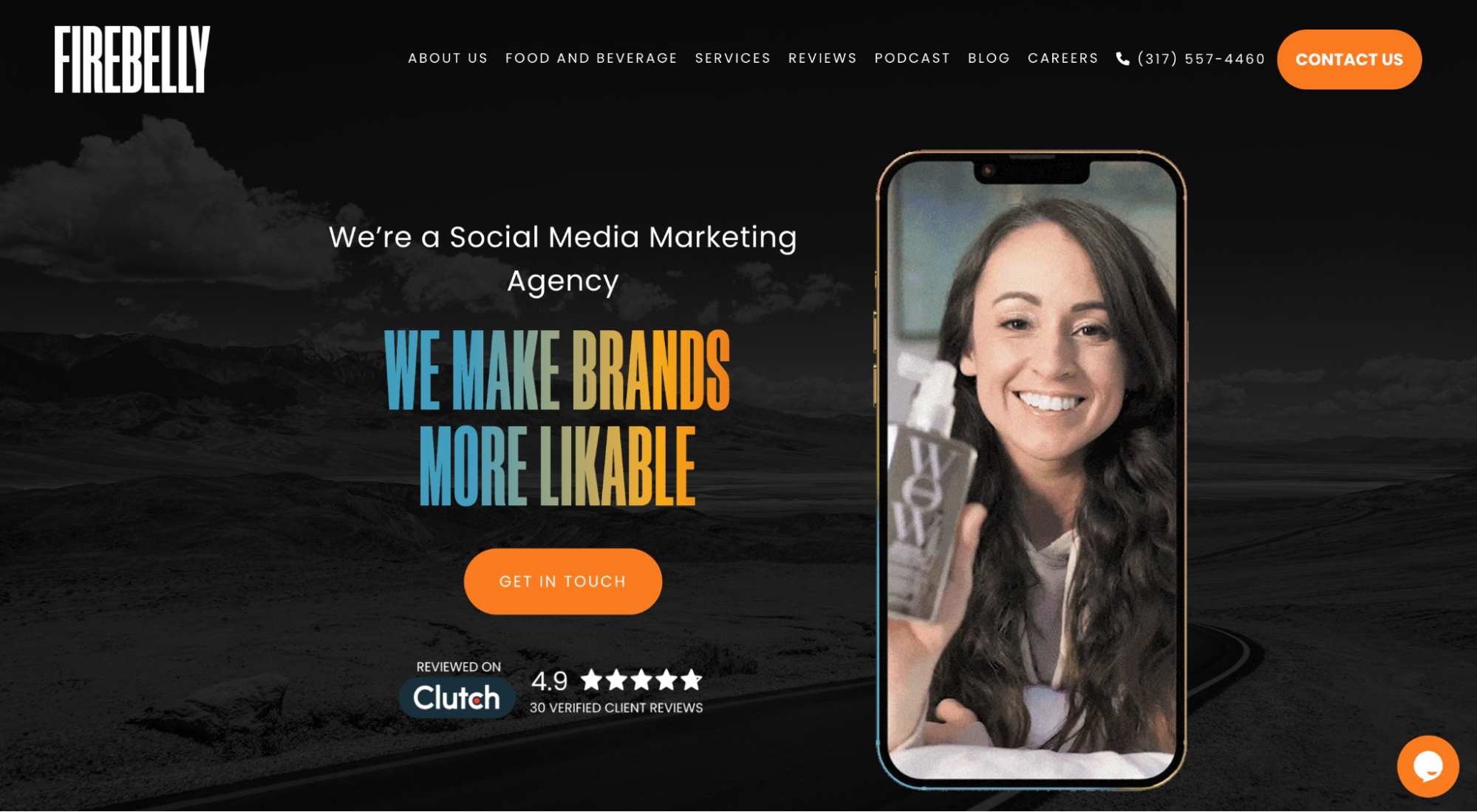 Firebelly Marketing is an Indianapolis, Indiana, USA-based social media marketing agency in the Eastern Time Zone. While they work with a number of brands across all industries, they like to focus on the food and beverage industry. With their studio services, they can easily create stunning photo and video content for restaurant social media accounts.
Firebelly also has a podcast to further show off their marketing prowess. And they include a ton of social proof across their website in the form of review site ratings, testimonials, and more. Some of their past clients include Justin Vineyards & Winery, Bake & Believe, Sony, and Qdoba Mexican Eats.
Services: 
Social Media Audit

Social Media Management

Social Media Ads

Influencer Management

Photography

Video Production

Design
---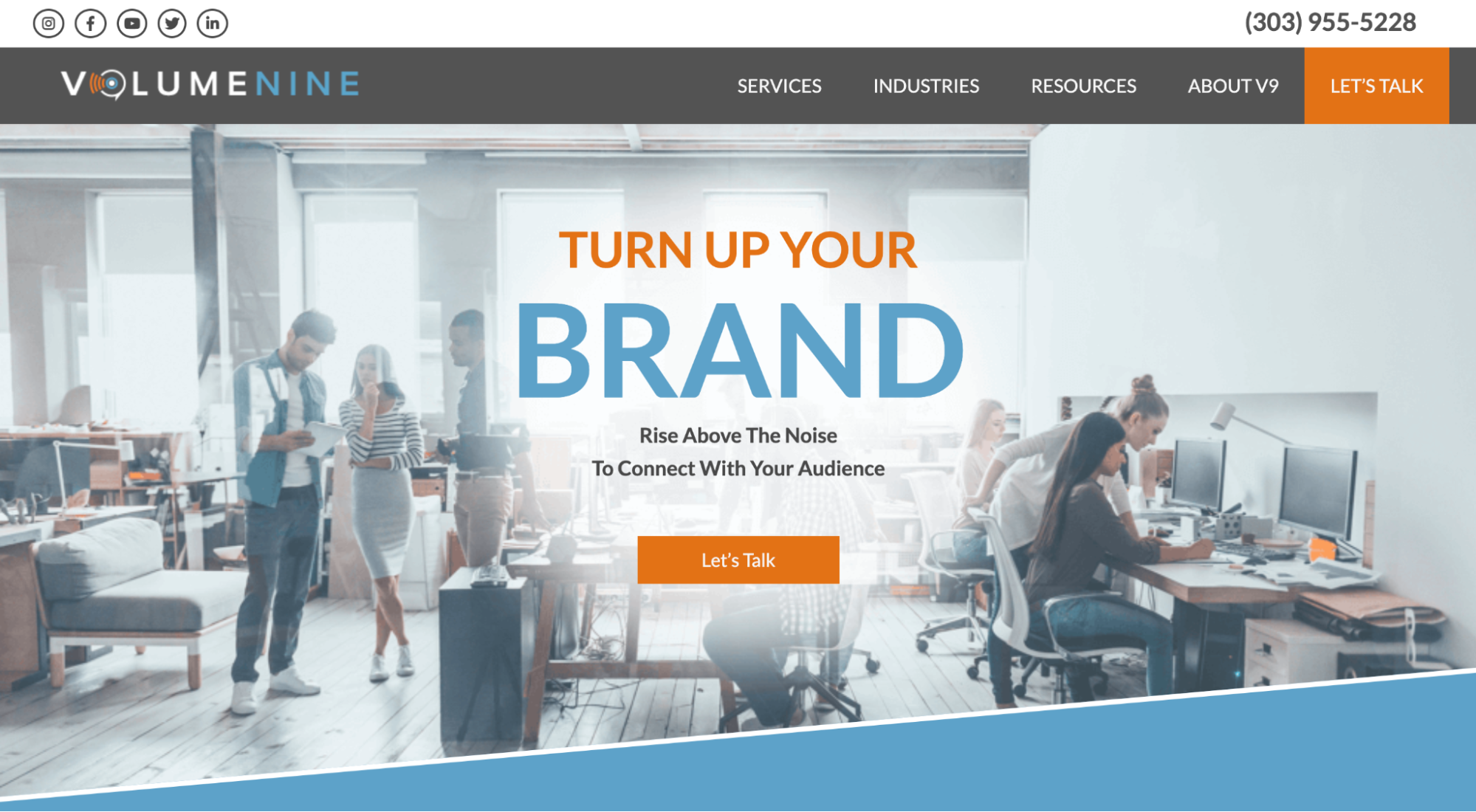 Volume Nine is a Denver, Colorado, USA-based digital marketing agency in the GMT-6 time zone. V9 works as an extension of your team, ensuring that everything they do falls in line with your marketing messaging and what you would want an in-house employee to create or promote.
Their past clients include Volkswagen, Fiji Water, RE/MAX, and O'Reilly Auto Parts. They work with many different types of businesses, from ecommerce and consumer products to B2B brands.
Services: 
Social Media Marketing

Content Marketing

SEO

Social Media Ads

Paid Advertising
---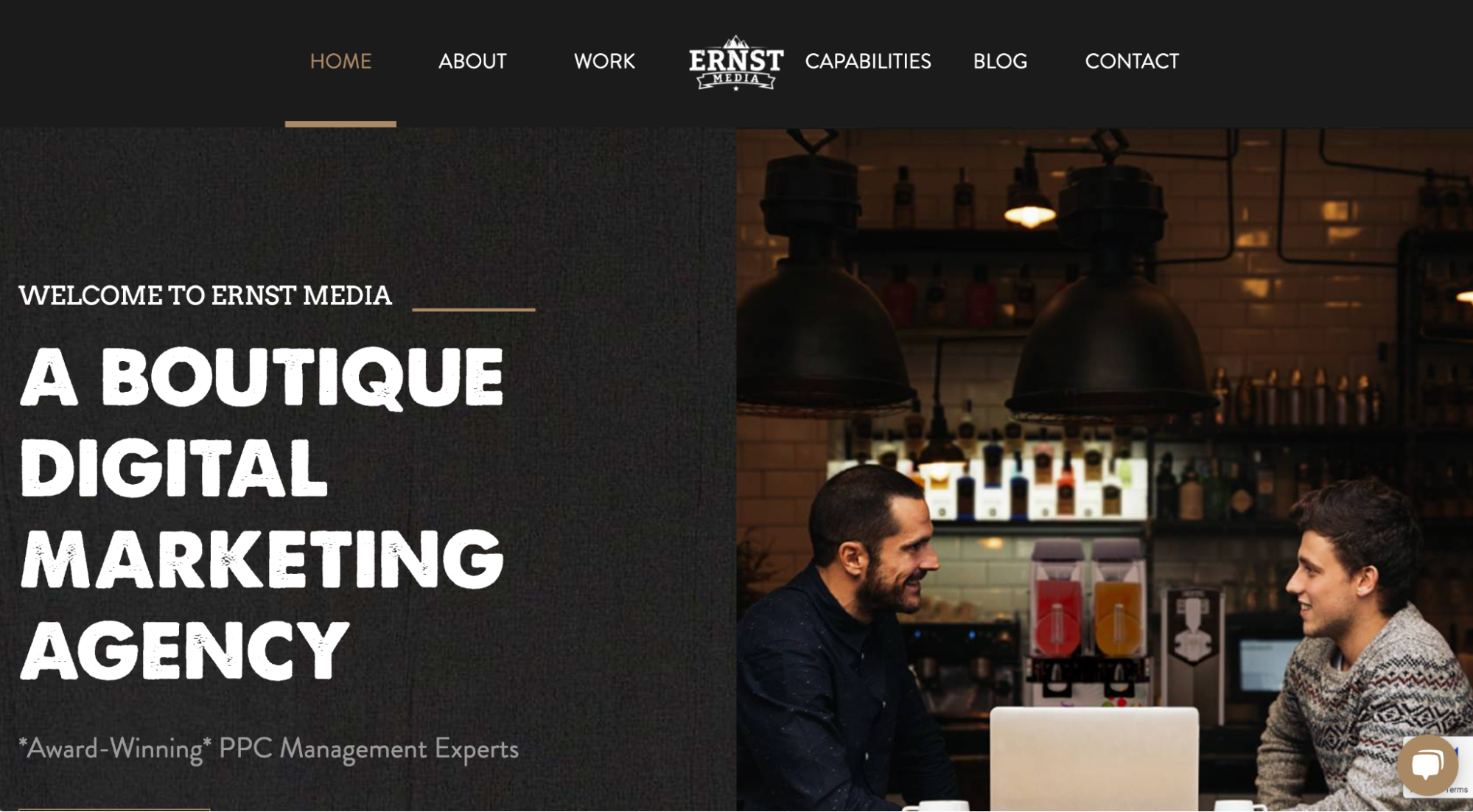 Ernst Media is a boutique digital marketing agency based in Tacoma, Washington, USA, in the Pacific Time Zone. They offer full-scale digital marketing services, from advertising to content & SEO to organic social media marketing.
Some of their past clients include HealthFreelance, Look & Hook, Horseright, and SilverTrac Software. They've generated results like quadrupling return on ad spend (ROAS) in the first month of a campaign, ramping up email signups from 30 to 1,000 per day, and more.
Services: 
Google Ads

Facebook Ads

Amazon Ads

Apple Search Ads

Technical SEO

Content Marketing

Offsite SEO

Social Media Marketing

Social Media Advertising

Influencer Marketing
---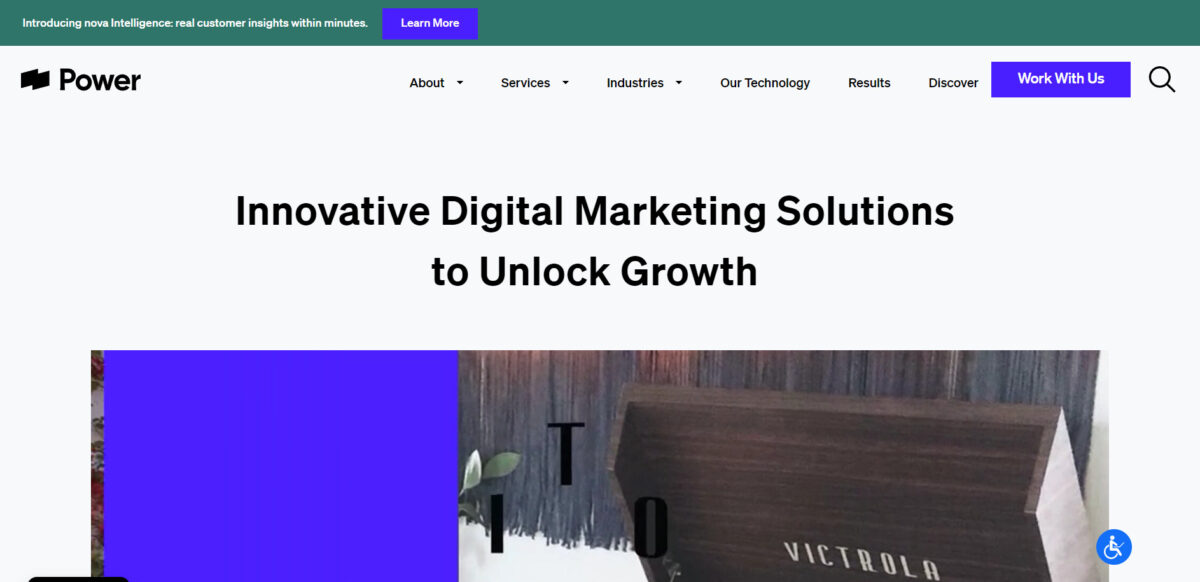 Trusted and loved by several major global brands that include names like Dropbox, Airbnb, and Peloton, Power Digital has offices in San Diego, New York, and Washington, D.C. and is one of the highest ranked US-based digital marketing agencies on Clutch. They're on a mission to empower brands so that they can become leaders in their respective industries. To help them achieve this rather ambitious mission, they rely on hard work, creativity, knowledge, confidence, and tech. 
Whether you operate in the B2B or B2C space, they've worked with various industries. What's more, they can also have a marketing solution for each stage of your funnel and milestone of your customer's journey. After completing a free, proprietary appraisal, their team of in-house creative pros will create a custom digital marketing strategy. This strategy will take a holistic approach that focuses on generating more revenue growth. Then, to ensure that you stay up to speed with the growth achieved so far, you can look forward to weekly calls and monthly meetings.  
Services:
SEO

Influencer Marketing

Content Marketing

Email Marketing

PPC

Affiliate Marketing

Retargeting

Web Development
---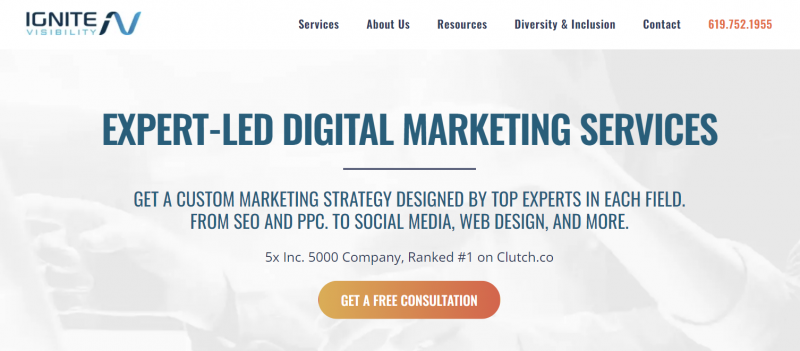 If you're a regular reader of Influencer Marketing Hub, you've probably come across Ignite Visibility a number of times. Established in 2013 and based in San Diego, they describe themselves as a premier, full-service digital marketing agency that manages about $100 million in ad spend per year. 
Regarded as one of the best SEO agencies in the United States, Ignite Visibility can also help with several other digital marketing services. What sets them apart from many other firms is their focus on forecasting. They have a proprietary, multichannel, performance-based forecasting system. With the help of this tool, they can access competitive analysis and business data to help their clients hit their goals. This has served them well and has helped them to land clients like Tony Robbins. 
Services:
SEO

Paid Media

Email Marketing 

CRO

Website Design and Development

Amazon Marketing

Digital PR
---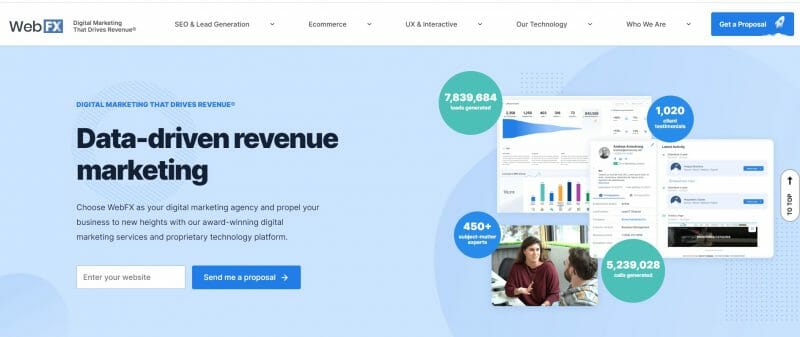 Not only is WebFX one of the highest rated US-based digital marketing agencies on Clutch, but they're also one of the most-reviewed agencies. Boasting more than 290 reviews on Clutch, their clients have praised them for their level of professionalism and service delivery. 
WebFX describes their agency as a "tech-enabled digital marketing solutions provider". Using their clients' goals and needs, they create custom strategies that focus on generating leads, revenue, and much more. Even when they've previously worked with other companies in your industry, their team will still take the time to get to know your business first. Similarly to some of the other leading agencies in the country, they also rely on proprietary software to make data-informed decisions. 
Transparency is also one of their core values. Unlike most other digital marketing agencies, WebFX actually publishes their pricing on their website. 
Services:
SEO

PPC

Social Media Marketing and Management

Content Marketing

Web Design and Development

Email Marketing

CRO

Amazon Marketing
---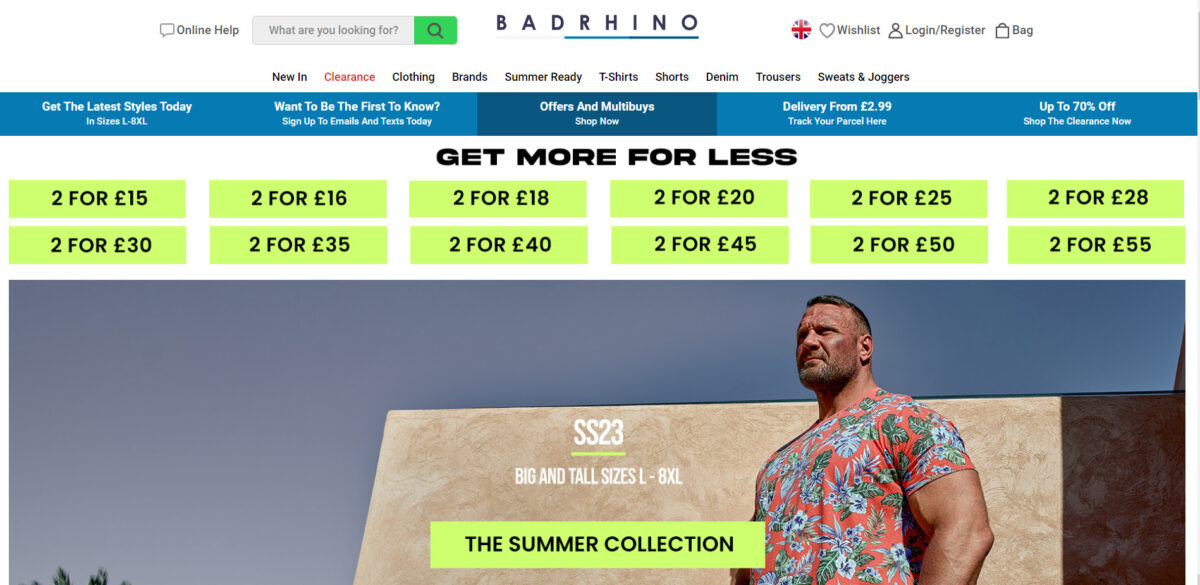 Bad Rhino is a social media marketing agency based in Philadelphia, Pennsylvania, USA, in the Eastern Time Zone. Their team offers an audit of your existing social media presence before they work on your strategy, ensuring that everything you're doing right now that's working stays and whatever isn't is replaced by more effective tactics.
The Bad Rhino team has worked with clients like Victory Brewing Company, PGA Philadelphia Section, Laundry Sauce, and anamiva. With their marketing services, they've helped clients reach hundreds of thousands of people on social media, generated tens of thousands of website clicks, improved social media engagement, and more.
Services: 
Digital Marketing Strategy

Digital Marketing Content

Social Media Marketing

Media Buying

Paid Social

Paid Search

Web Design

Outsourced CMO
---
ApexDrop is a Pennsylvania, USA-based influencer marketing agency in the Eastern Time Zone. Their main focus is on connecting brands with the best micro-influencers to help promote those brands and their products and services as organically and authentically as possible.
A micro-influencer is an influencer with around 2,000-10,000 (or sometimes 100,000) followers online, and they tend to generate better engagement than some of the larger influencers. They're also more affordable as they don't have quite as much reach.
The ApexDrop team has created influencer partnerships for brands like Swiffer, iHome, Claire's, and Soylent. Through these partnerships, they've generated hundreds of thousands of online engagements for their clients, building up brand awareness and company growth.
Services: 
Influencer Marketing

Lifestyle Photography
For Influencers: If you are looking for agencies to represent you click here.
---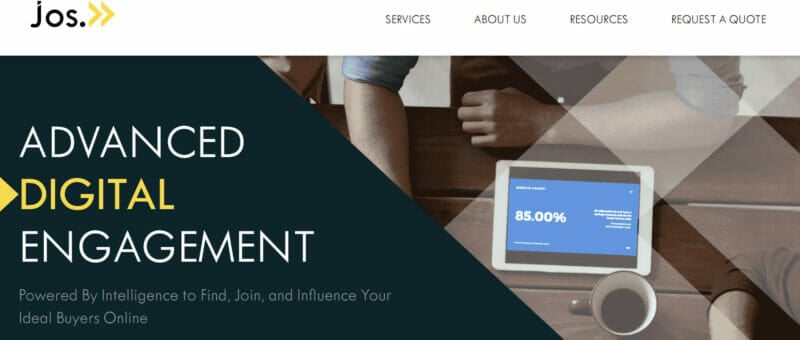 The Atlanta-based marketing agency, Joseph Studios offers intelligence-based marketing strategies that have been recognized by leading review sites like Clutch, Agency Spotter, and UpCity. What sets them apart from other marketing agencies is their proprietary tools and strategies that help them to track down their clients' target market in niche online groups and forums. They'll then build customer personas and profiles to understand your ideal buyers better. This way, they can customize their marketing campaigns to appeal to them and their decision-making process.
Whether you're an entrepreneur just about to launch, an established brand, or an enterprise business, their services are tailored to all these types of businesses. Some of the brands that have used their services include Hershey, Delta, and Genexa.
Services:
Social Media Marketing
SEO
Email Marketing
Content Marketing
Marketing Strategy
PR
---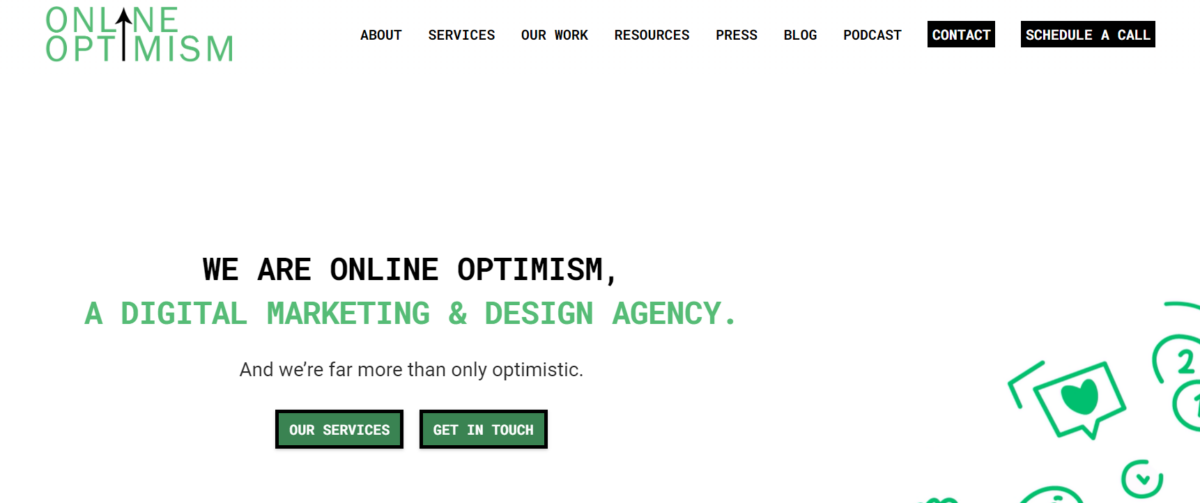 Online Optimism is one of the leading full-service digital marketing and design agencies in the US. Founded just over a decade ago, they have two offices in New Orleans and Washington D.C. from where their team of creatives, digital marketers, designers, and strategists help their clients to become optimistic about their marketing.
Using a data-driven method, they create innovative, digital-first marketing campaigns that generate long-lasting results. They specialize in a wide range of marketing-related services and are happy to help you with all your marketing or simply a specific strategy. Whether you operate in the B2B or B2C sector, they have experts in multiple industries and have worked with clients across various locations. Clients have praised them online for their willingness to give 100% and more — an attitude that will get anyone optimistic.
Services:
Social Media Management
SEO
Video Production
Content Marketing
Web Design
Branding
Digital Ads
---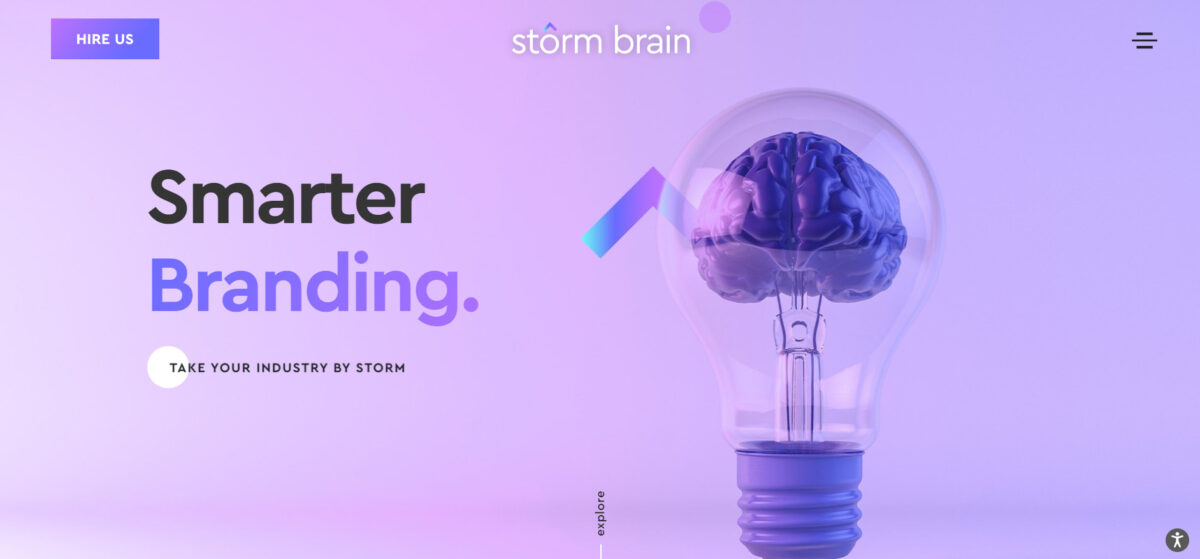 Storm Brain is a full-service digital marketing agency that's headquartered in San Diego, but they also have offices in Los Angeles and New York City. They've received dozens of five-star reviews on reputable online sites like Clutch and UpCity, with clients highlighting their excellent communication, speed, and overall customer service as their top-rated traits.
They work with conventional as well as unconventional industries. Their dedicated team of developers, creatives, marketers, and strategists operate as an extension of your team as they've done for established brands like Zillow, Fossil, and Bank of America. In addition to offering a wide range of digital marketing services, they can also help with branding and web assets.
Services:
Brand Strategy
Web Design and Development
PPC
Online Reputation Management
Social Media Management and Marketing
SEO
Email Marketing
Google Ads Management
eCommerce Marketing
Amazon Marketing
---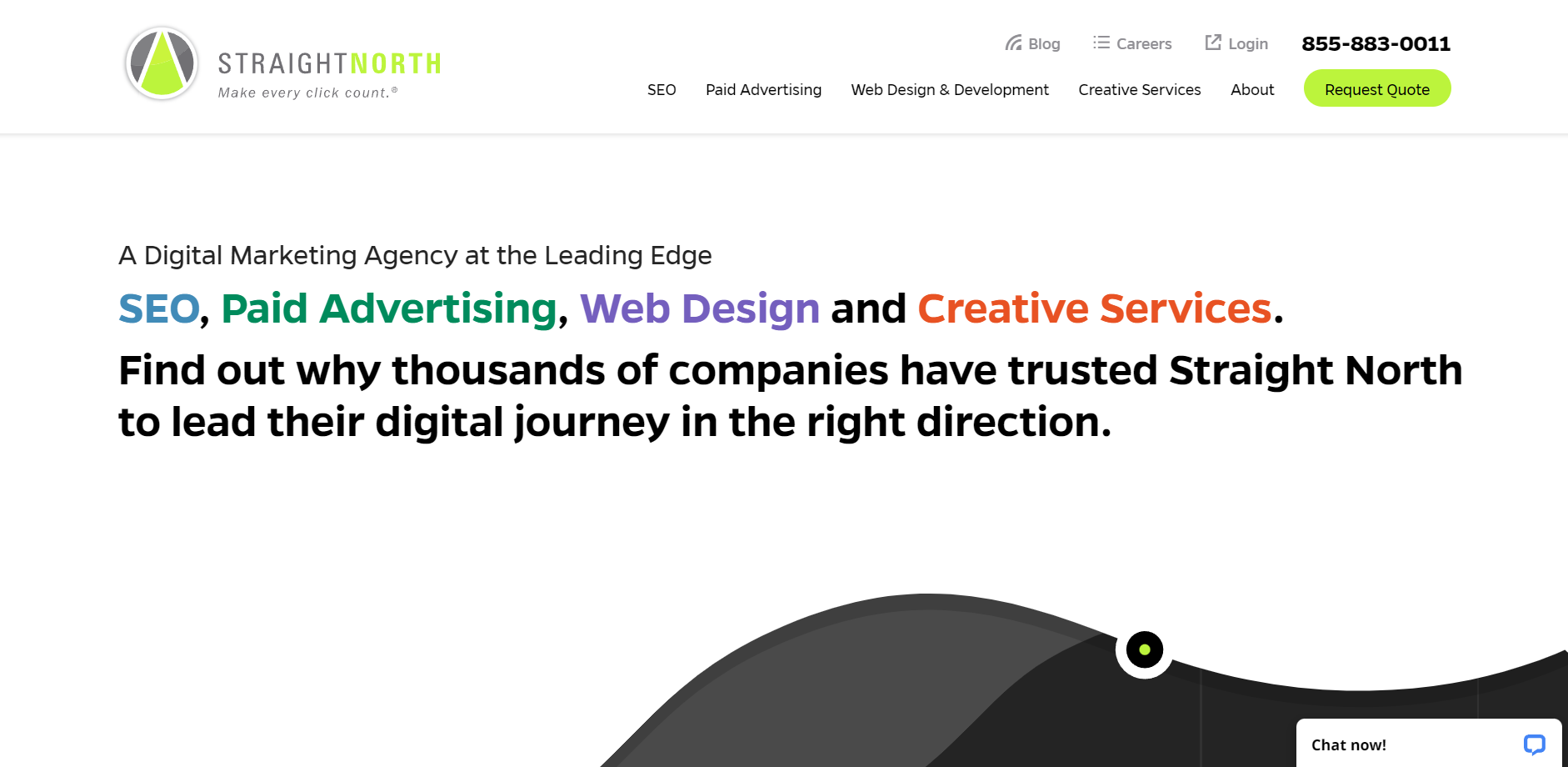 Straight North is a full-service internet marketing agency with a proven track record dating all the way back to the late 1990s. They focus on serving SMBs.
While they choose to work with smaller companies, they're happy to serve various industries, including B2B and B2C businesses. Plus, included in the list of markets that they serve are a number of more technical industries like healthcare and legal.
Their in-house team of 100+ full-time marketers work from a number of offices all across the United States. In addition to helping you target a local and national market, they can also create and manage a marketing campaign that will attract the attention of a global market.
Services:
SEO
PPC
Web Design
Display Advertising
Email Marketing
---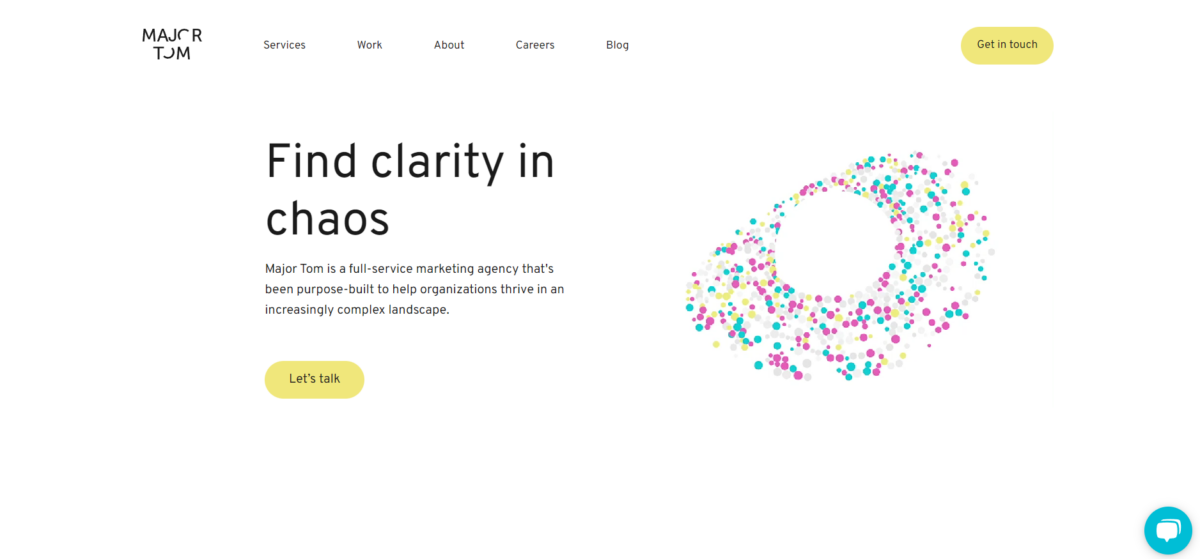 Major Tom is a full-service digital marketing and creative agency in North America that has helped over 1,000 clients including names like Pepsico, DoorDash, and Hootsuite. In addition to offices in New York and San Francisco, they also have two offices in Canada. Not only does Major Tom boast a number of major brands in their client list, but over the 20+ years that they've been in business they're received more than 60 awards. That alone is an impressive feat.
They use a unique four-phased approach to get to know all the aspects of your business so that they can determine which strategy will be the best fit. From Chinese marketing to custom web development, they also offer a mix of services to tackle your digital marketing holistically. That said, if you simply need help with a specific service, you're welcome to try out individual services one at a time too.
Services:
Digital and Brand Strategy
Paid Search
Social Media Marketing
Content Marketing
Amazon Marketing
Media Buying
Web3
SEO
eCommerce Strategy and Development
UX/UI Design
---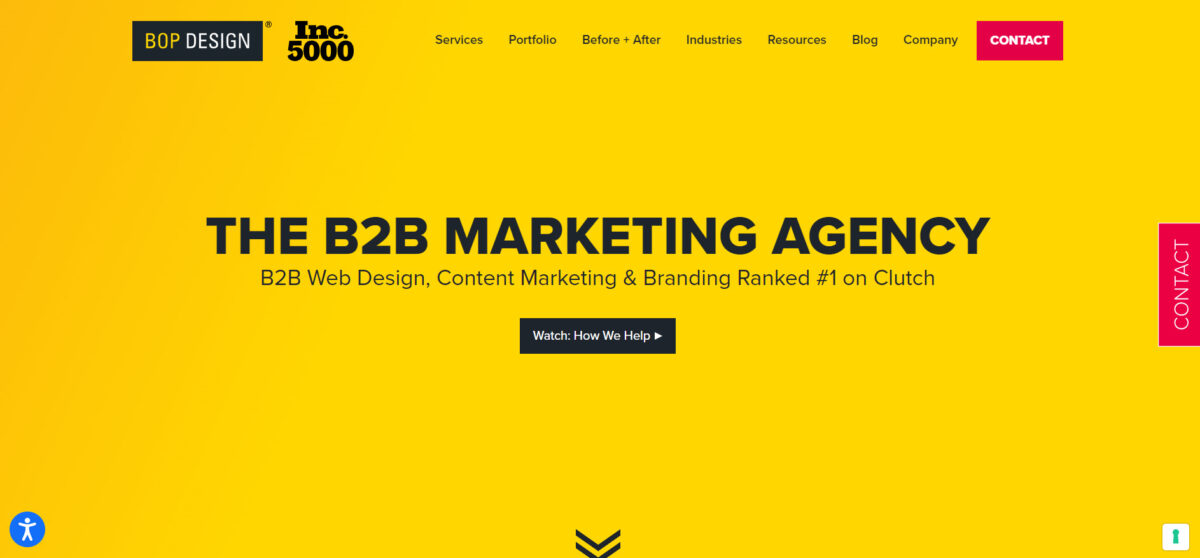 B2B brands can check out Bop Design. Their story started in 2008 when they launched as a website design firm.
Over the years they've grown their list of services to include various other digital marketing services. Fast-forward 15 years and they have four offices on the West and East Coast of the United States as well as dozens of positive online reviews.
That said, while they've expanded their scope and have worked with a number of B2B industries, they've made sure to remain a boutique agency. As such, they're quite selective about the projects that they sign up for and work solely with B2B businesses that prioritize growth. Their typical client — B2B brands in need of a rebrand.
Services:
Content Marketing
Branding
Web Design and Development
Email Marketing
SEO
Logo Design
---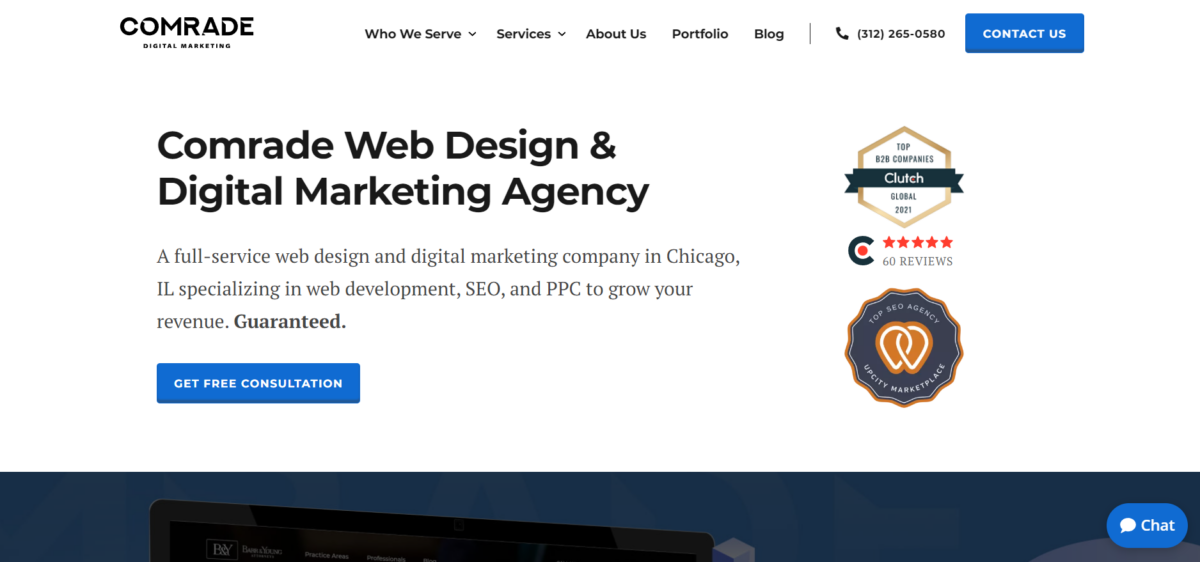 Comrade Digital Marketing is a full-service digital marketing and web design agency with a number of locations across the US including Chicago, San Diego, and Miami. Their specialities are SEO, PPC, and web development, but they can also help with various other marketing-related services.
Their solutions are designed specifically for smaller businesses. What's more, you don't necessarily need to have a dedicated, in-house marketing team. They understand that small businesses can't necessarily afford to hire a full-scale, in-house marketing team and have set up their offering in such a way that you get a dedicated account manager along with a team of marketing experts to help you scale your business.
Services:
Marketing Strategy
SEO
PPC
Content Marketing and Management
Web Design and Development
Social Media Marketing
Online Reputation Management
Email Marketing
---
---
Conclusion
Working with an agency that knows your target market like the back of their hand is key. That's why we recommend US-based brands stick with a US-based digital marketing agency. And as we mentioned previously, working with an American agency can also be a great way to break into the American market as a part of your international marketing strategy.
But if you're looking for an agency that offers more specific services or works with specific industries, we've got you covered. Find agencies that specialize in the following:
Finding the right agency for your needs is key to seeing the best results possible. Make sure to check out what services each agency offers, what industries they've seen success with, and what their typical results are before reaching out for a consultation.
Frequently Asked Questions
What is a digital marketing agency?
A digital marketing agency is a company that helps other companies with their marketing. Agencies tend to specialize in different areas of marketing and business growth, but digital marketing agencies often offer a number of full-scale online marketing services.
This can range from branding and website design to social media and content marketing. However, some agencies niche down to certain industries so you might find one that works specifically with ecommerce companies while another focuses on B2B.
Having these specialties allows agencies to produce even better results for their clients. Because they're able to master marketing for one industry or provide one set of services, they're able to pinpoint exact strategies that generate results.
What can a digital marketing agency help with?
Digital marketing agencies are able to help with a number of things for your company. While some will create strategies for your in-house team to execute, others will handle every aspect of your marketing, like content creation, social media management, blog management, landing page/sales page creation, brand design, product development, email marketing, and more.
How much does it cost to hire a digital marketing agency?
According to research conducted by SEMrush, digital marketing agencies charge anywhere from $50-500 per hour, with an average of $150 per hour. Typically agencies will create monthly packages based on the services you're looking for and how much time they need to allot to deliver those services. Many agencies create fully custom packages for their clients so that you're able to pay just for the services you want.
How can you find the right digital marketing agency for your brand?
Finding the best digital marketing agency for your brand can be difficult. You don't want to start working with an agency and have them get familiar with your brand only to realize it's not a good fit and you have to start the process all over again.
There are a few tried-and-true tips for making sure you work with the right digital marketing agency right from the jump:
Know your goals so you can find an agency with proven results similar to what you're hoping to achieve

Look at the agency's list of past clients to see if they've worked with brands similar to yours

Check that the agency has team members with expertise related to your goals (i.e., if you want to increase website traffic, make sure they have an SEO specialist)

Browse their website for social proof, like features in online publications, positive reviews, case studies, etc.

Read through their case studies to make sure they produce tangible results and don't simply talk about their deliverables
What are some of the best U.S.-based digital marketing agencies?
We cover the top 29 US-based digital marketing agencies right in this article, with our recommendations including Iron Roots, Bad Rhino, Disruptive Advertising, and The Shelf.